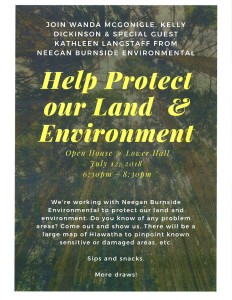 Hiawatha First Nation is undertaking a Phase I Environmental Site Assessment (ESA) as part of the First Nations Land Management process.
The Phase I ESA will:
– identify and report on actual and potential site contamination; and
– identify and report on any other environmental concerns.
The project is being managed by Kelly Dickinson, Lands Assistant/Clerk, Hiawatha First Nation.
Neegan Burnside representatives will be visiting the community from July 11 to 13 to conduct a Site Visit, in order to identify areas with actual and potential contamination.
Community members are invited to attend an Open House being held on July 12 in the Lower Hall, from 6:30 pm to 8:30 pm.  The purpose of the Open House is to provide an opportunity for community members to share their knowledge with Neegan Burnside about any historical activities and incidents that may be an environmental concern, such as waste dumping sites, chemical storage, fuel storage tanks (underground tanks and aboveground tanks) fuel spills, oil spills and industrial operations (former and current).