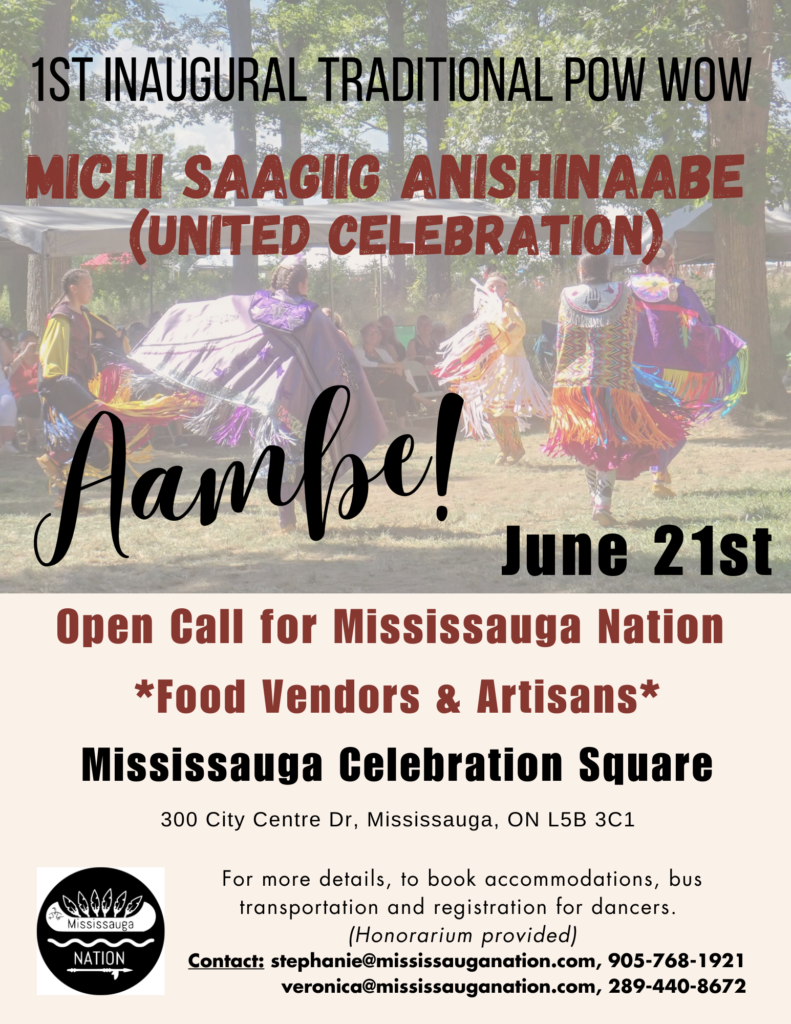 Notice of invite: to the Hiawatha First Nation Community to participate in the Mississauga Nation Indigenous Powwow Celebration June 21st in Mississauga City. There will be no charge to attend the powwow as a visitor but the following positions listed below is for Hiawatha members and is by invitation only. We are hopeful many of you are be to attend to represent our Mississauga Nation!
See attached information flyers and the link below for registration.
If you have any questions I can be reached at 705-295-6135 or see contact info below for Veronica King-Jamieson.
Miigwetch,
Marybeth Hogan
Aaniin kina wiyaa
Hope all is well with you, family and communities.
Looking for your support in listing names to reach out for the following positions for the upcoming 2023 Michi Saagiig Pow wow in Mississauga City.
MC

Arena Manager

Veterans

Head Male dancer

Head Female dancer

Youth head dancer

Drum group

volunteers

Food booth

Artisans
Note:
We can pay an honorarium for all the above positions.

If enough members from each community warrant a bus we can make travel arrangements for a bus pick up on Tuesday, June 20

th

and one night accommodation in Mississauga City (Holiday Inn). The bus will return on June 21

st

leaving at 4 pm from Celebration Square where the Pow wow will take place from noon to 4 pm. Grand entry at noon.

We can provide meals for the day and if staying overnight incidentals of $17.50 for the night.

There is no charge for Artisans and food booth. We will pay the Artisans / Food booth $200.00 to set up. Please note if they travel in on their own, we ask if they would be willing to stay til 9 pm as there is a music concert starting at 6 pm to 9 pm.

Last year we had approximately 7,000 + attend the music festival. This year we are including the pow wow.

Please note to bring own lawn chairs.

There is a splash area for use during the day.

Registration form attached for review.
If you have any further questions, please call, text or email.
Miigwech (thank you) for your time.
Baamaapii miinwaa kawaabmin
(until we meet again)
Veronica King-Jamieson, BEd. N'dizhnikaas
Anishinaabe Kwe, Makwa dodem niin da'aw
Mississauga Nation Coordinator
Chi nibi Michi Saagiig n'doonjibaa
People of the Great Lakes
1 (289) 440-8672 or (905) 869 – 5753
Website: www.mississauganation.com
Event Registration: https://tinyurl.com/4vxt573f