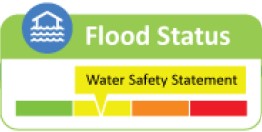 ISSUED TO: Municipalities of Selwyn, Douro-Dummer, Asphodel-Norwood, Otonabee-South Monaghan, Cavan Monaghan, City of Kawartha Lakes, City of Peterborough, Trent Hills, and Otonabee Conservation's other partners in flood emergency management.
DEFINITION: A WATERSHED CONDITIONS STATEMENT – WATER SAFETY is issued when high flows, unsafe banks, melting ice or other factors could be dangerous for recreational users such as anglers, canoeists, hikers, children, pets, etc. Flooding is not expected.
Otonabee Conservation advises that a weather system is moving through Ontario that will bring a significant amount of rainfall to our watershed over the course of the long weekend. Starting today, Friday May 15th and continuing through Monday May 18th, the slow moving, low pressure system will bring a 4-day rainfall accumulation in the 40-60 millimeter (mm) range.
While conditions have been fairly dry over the past few weeks, the 10 to 20 mm of rain expected to fall today will cause soils to become saturated, meaning much of the rain received Sunday to Monday (30 to 40mm) will runoff into our rivers and creeks. As a result, higher than normal water levels and flows can be expected in our rivers and creeks. Water accumulation and ponding on roads, intersections, and low lying areas is possible. Flooding from rivers and creeks is not anticipated.
Otonabee Conservation advises area residents to keep away from all waterbodies / watercourses and water conveyance structures (e.g., dams, culverts and bridges), and to stay clear of areas where water can be seen to be accumulating and ponding
This WATERSHED CONDITIONS STATEMENT – WATER SAFETY message will remain in effect until Tuesday May 19, 2020.
Neil MacFarlane | Flood Forecasting & Warning Duty Officer | 705-745-5791 x 231
250 Milroy Drive, Peterborough, ON K9H 7M9
| Flood Watch Hotline 705-745-5791 x 228