Jump to: Weekly Situation Report | Hiawatha Notices | Service & Program Changes | Self-Assessment Tool | Stop the Spread | Proper Hand-Washing | Social Distancing and Social Circles | Masks & Face Coverings | Facts & Symptoms | Comparison Chart | How to Self-Monitor | How to Self-Isolate | Travel Info | Food Handling | Public Health Notices | Government Benefits & Support | Resource Links
---
As you may be aware First Nations are at greater risk of becoming ill from COVID-19 due to our higher incidents of diabetes, heart disease and cancers. We want to be pro-active and give our due diligence to prevent the spread of the spread of the virus in our community. We take the health of all our Citizens, especially those most vulnerable our seniors, young children, and all those who are immune compromised, of the utmost importance.
We are following recommendations from Ontario and Canada to try and mitigate risk, not only for our Community, but to all work together to help slow/stop the spread of this virus.
We encourage our Citizens to check in with family members and neighbors who have mobility/health issues. Our COVID – 19 Task Team are talking daily and meeting weekly to keep updated on local, regional and national changes and we will make the necessary changes at the Community level as required. We will continue to keep you updated. If you have any questions, please do not hesitate to call our Office at 705-295-4421.
---
Weekly Situation Report
---
Hiawatha Notices
---
Service and Program Changes
FACE MASKS OR COVERINGS – Effective Monday, July 20, face mask or coverings are required in all public spaces within the boundaries of Hiawatha First Nation. Please read the full notice here.
CHECK POINT STATION – Effective Thursday, June 11, the check point station will be taken down and Hiawatha First Nation will be moving into a Stage 1 re-opening process.
OLD RAILROAD STOP STORE & GAS STATION – Effective Friday, July 10, the store will reopen to the general pubic. Hours of operation will be 9 AM-7 PM. We would prefer debit/credit card transactions at this time, due to health concerns.
OLD RAILROAD STOP RESTAURANT – Effective Friday, July 10, the Old Railroad Stop Restaurant will be opening daily from 9 AM-2 PM and also Friday-Sunday from 4 PM-6 PM. Take out, curbside pick-up, and call-ins only. Preferably debit/credit but will accept cash as gloves will be worn.
ADMINISTRATION OFFICE – Effective Thursday, March 19, 2020, the Administration Office will be officially closed until further notice. Citizens needing to speak with staff are asked to call and leave a message. Anyone needing to make a payment to Hiawatha First Nation, at this time, all payments will be received by mail.
L.I.F.E. SERVICES CENTRE – Effective Tuesday, March 17, 2020, office doors at the L.I.F.E. Centre will be closed to the public. Citizens needing to speak with staff are asked to call reception and you will be redirected to the appropriate person.
CHILD CARE CENTRE – Due to the on-going concerns of the COVID-19 virus and its spread, this notice is to advise that our Child Care Centre will be closed effective Monday, March 16, 2020 until further notice.
GYM – Due to the COVID-19 the Gym will be closed until further notice. Any updates will be posted here. Sorry for the inconvenience.
YOUTH CENTRE – Our Youth Centre, including March break and regular Youth Centre activities will be cancelled until further notice.
ACTIVITIES / EVENTS / MEETINGS – All in-person activities, events, meetings will also be cancelled/postponed until further notice. We will monitor and re-asses the situation and determine next steps moving forward.
COUNCIL & STAFF – Council and Staff will be on a travel ban, and will not host any meetings in the Community until further notice. We will conduct our meetings by conference call and/or video conferencing. Any Staff who have travelled out of the Country will not be permitted to work for 2 weeks, however those Staff who are able can work from home. We suggest any citizens who have travelled out of Country to read the attached travel information.
WORSHIP SERVICES – In light of the province's state of emergency and with a directive from the General Secretary of the United Church of Canada, Sunday morning worship services at Keene and Hiawatha will be suspended until further notice.
BOAT LAUNCH – Our boat launch and big dock (the "point" as we know it) is closed to the general public. These will remain open for the use of Hiawatha First Nation (HFN) citizens and their spouses, permanent HFN residents (lessees), and Otonabee-South Monaghan (OSM) permanent residents. If you reside on Hiawatha Line, Paudash St., Lakeshore Rd., Angela's Lane, Sopers Lane, Kent's Bay Rd., Maple Rd., Cowe St., Hatrick Rd, Ivey Lane, or Thompson Rd. you are permitted to use the boat launch. Please read the notice here.
FISHING – Fishing is closed to the general public.
BEACH – The beach is closed to the general public.
PLAYGROUNDS – The playgrounds, both at the beach and ball diamond, are closed.
BALL DIAMIND – The ball diamond is closed to the general public.
TENT & TRAILER PARK – Is closed for the season.
FIRE BAN – Effective May 7, the fire ban has been lifted. Please read the notice here for burning guidelines.
CONSTRUCTION – Non-essential outdoor construction is permitted at this time. Guidelines have been put in to place for new home construction and emergency repairs. Please read the notice here. If you require a building permit, the form can be found here.
GARBAGE AND RECYCLING – HFN garbage and recycling will continue to take place on Thursday. We ask that you bag all kitchen catchers and/or loose material in your pail until further notice. Please read the notice here.
---
COVID-19 Self-Assessment Tool
If you think you have coronavirus (COVID-19) symptoms or have been in close contact with someone who has it, use this self-assessment to help determine how to seek further care.
Click here for the Government of Ontario Self-Assessment Tool
If after using the self-assessment tool, you feel that you need further assessment, please contact one of the following:
Click here for a list of COVID-19 Assessment Centres in Ontario.
Starting on Wednesday, May 27, local residents without symptoms can access drive-through testing for COVID-19 at the Kinsmen Civic Centre on a first-come, first-served basis. More information is available here.
Hiawatha is currently working with Peterborough Public Health and EMS to be able to offer onsite testing in Hiawatha. Once the particulars have been established, we will post another notice but in the meantime, for those wanting to be tested, you may do so once you arrange a visit at the drive through test site.
---
Stop the Spread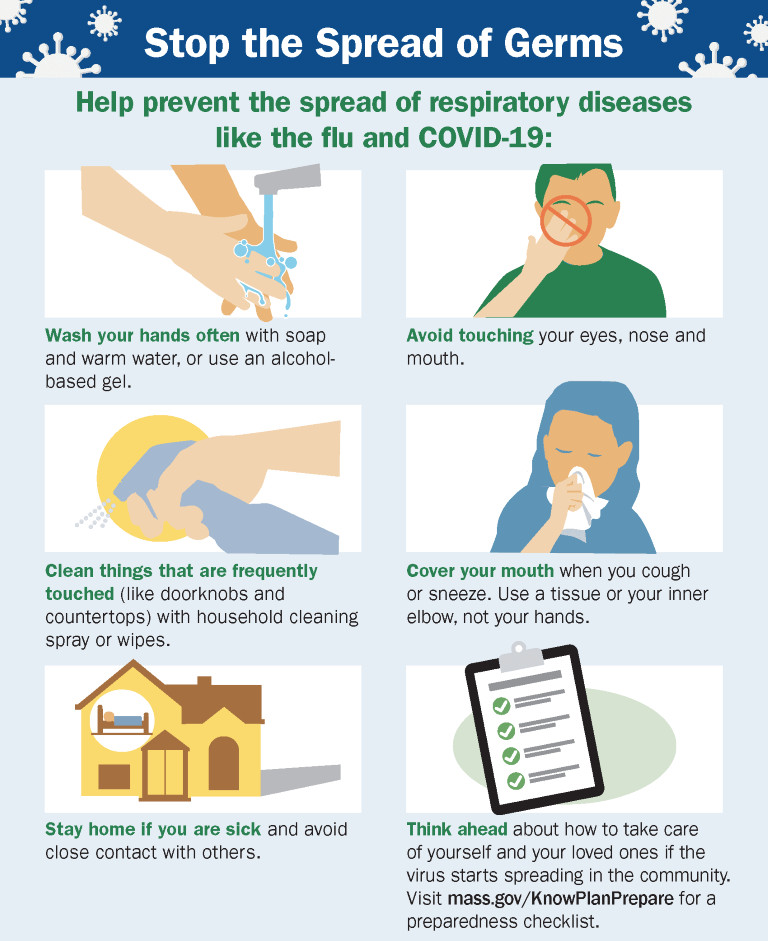 ---
Proper Hand-Washing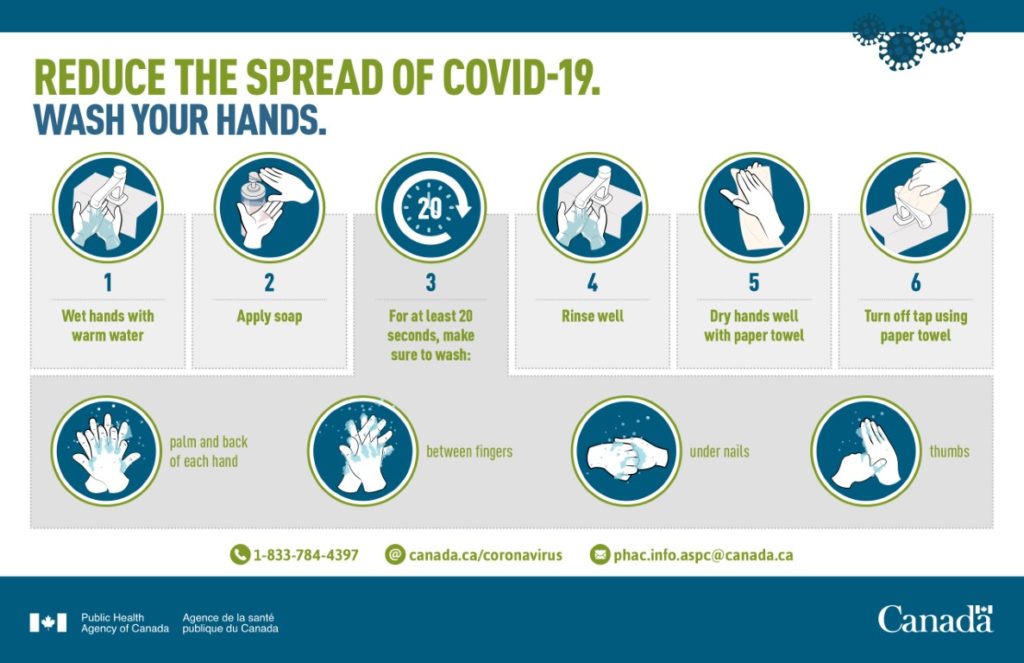 ---
Social Distancing & Social Circles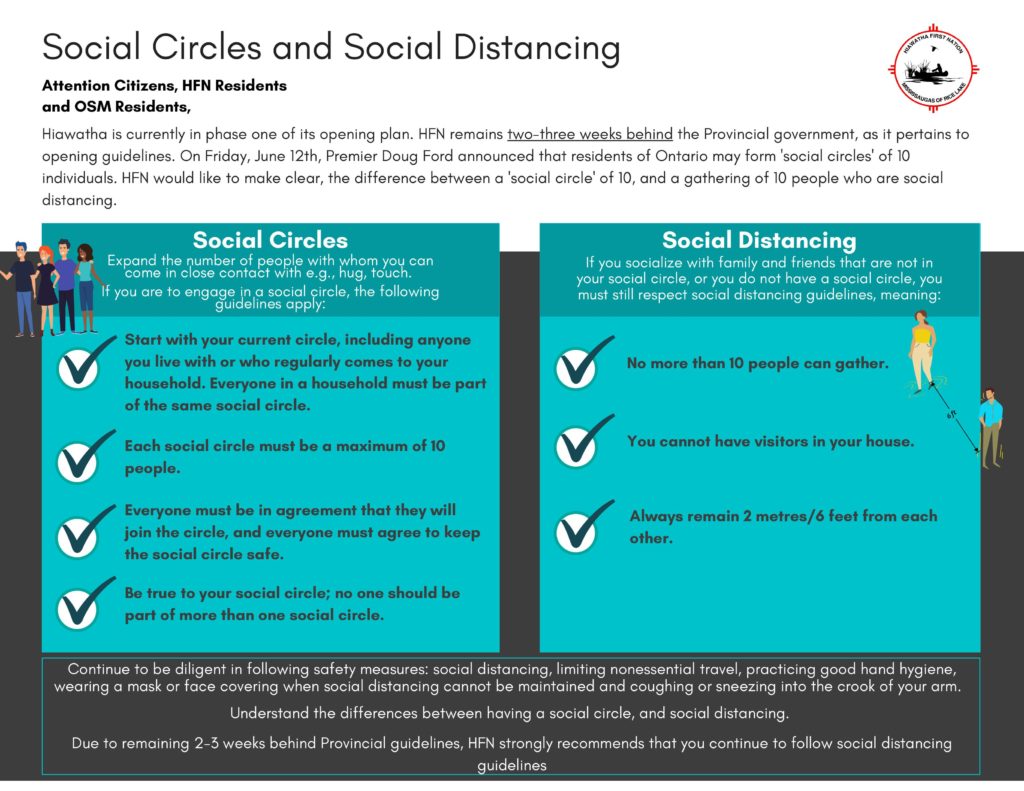 Click here to view a video with information on social distancing.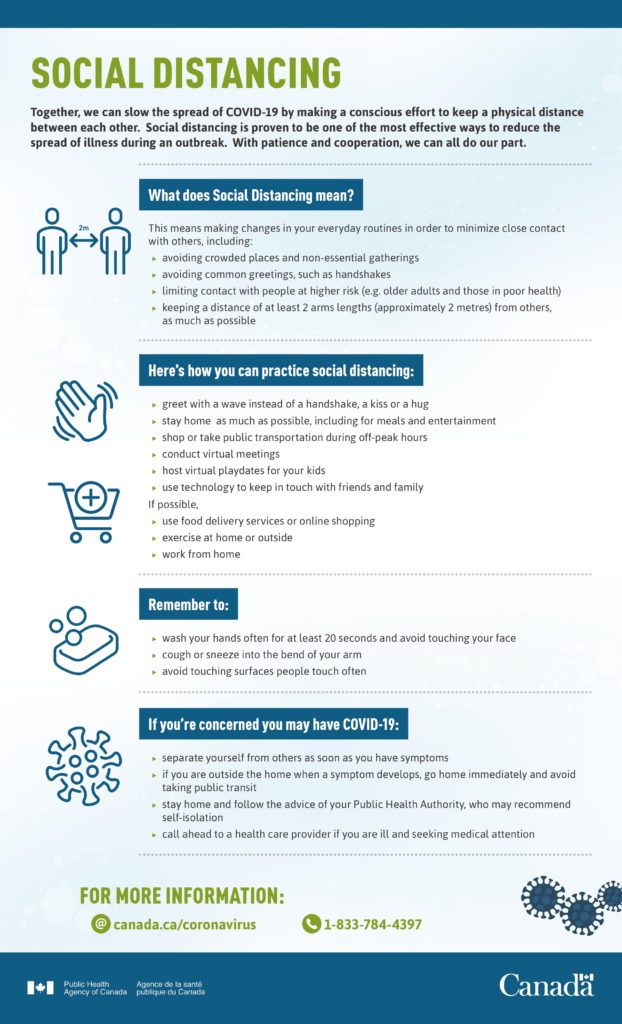 ---
Non-medical Masks and Face Coverings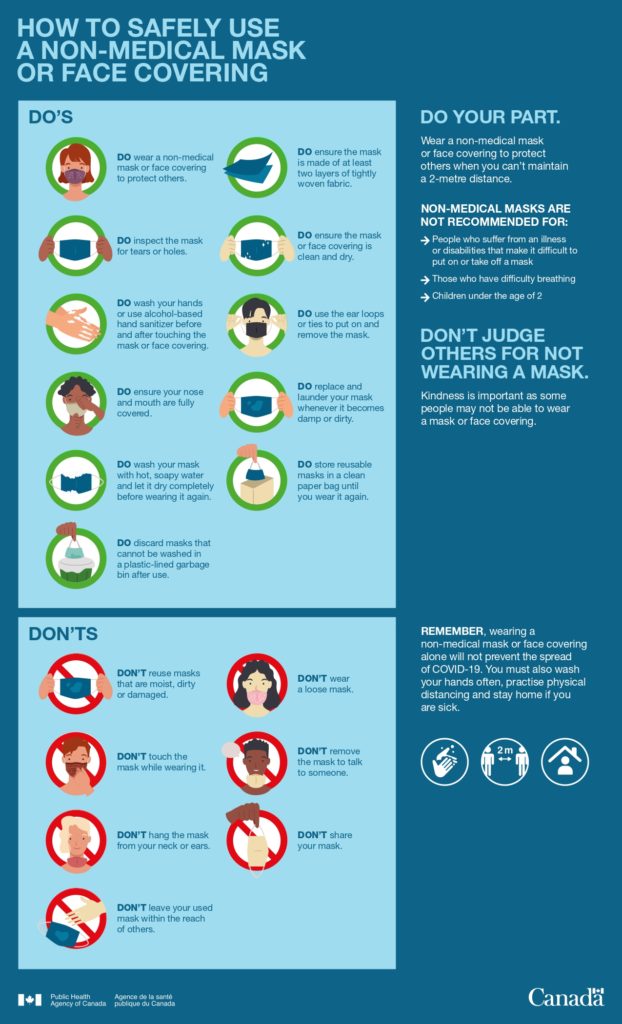 ---
Facts & Symptoms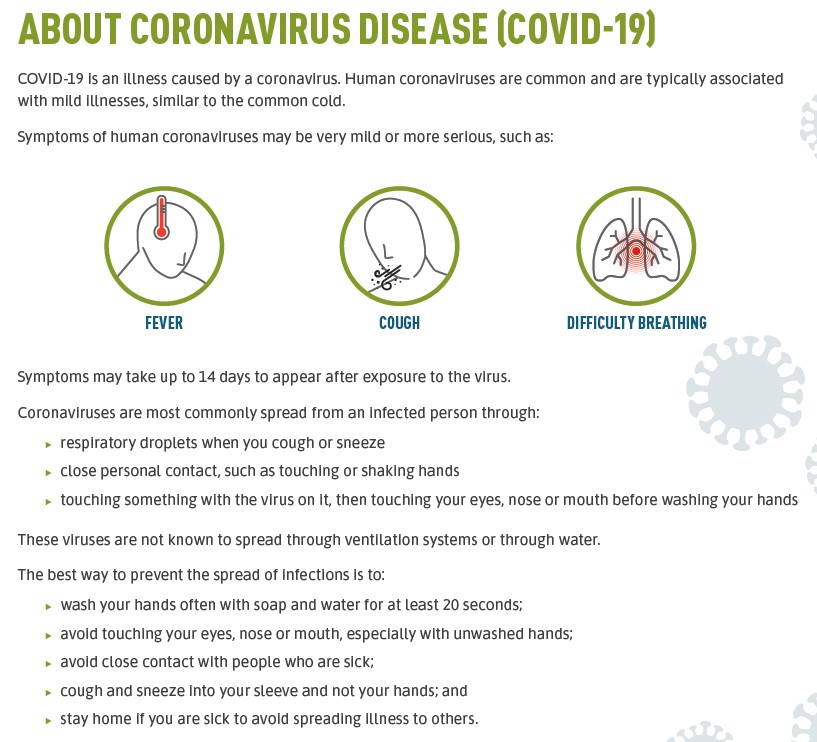 ---
Comparison Chart of COVID-19 and Influenza (Flu)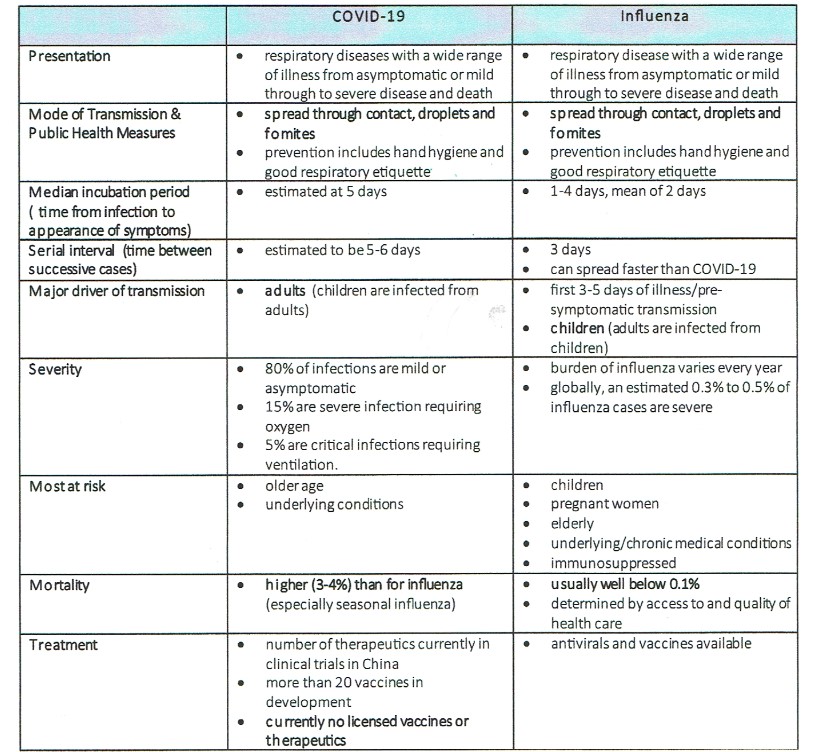 ---
How to Self-Monitor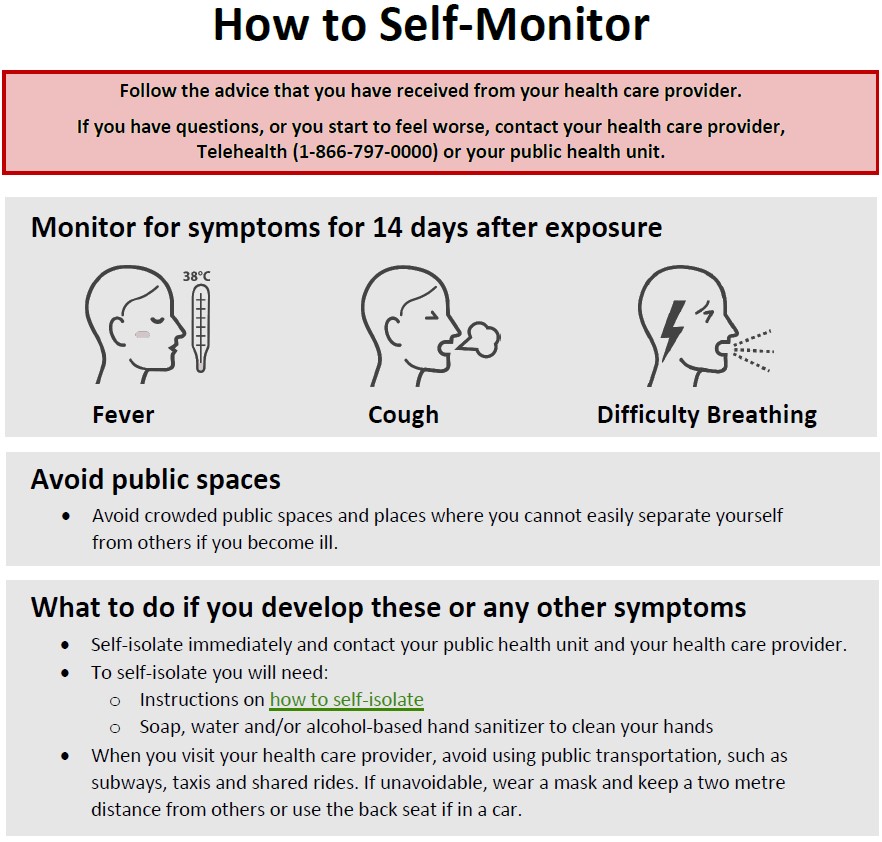 Contact Peterborough Public Health Unit at 705-743-1000 or email covid19@peterboroughpublichealth.ca if you have questions. Hours are Monday-Saturday 8:30 AM–4:30 PM.
---
How to Self-Isolate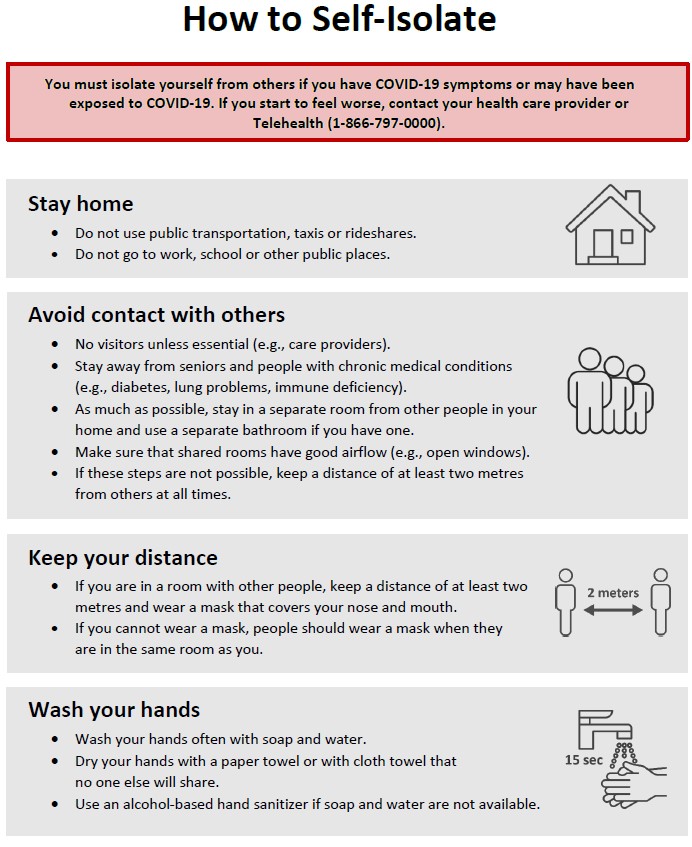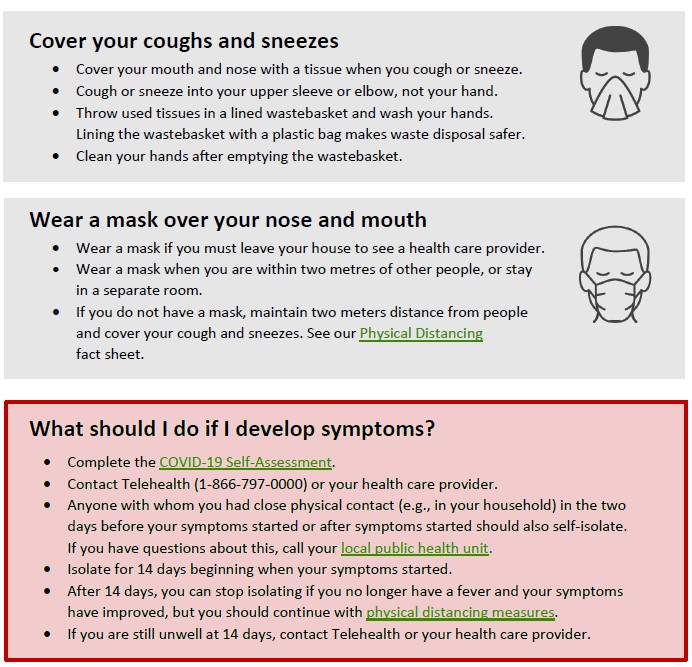 Self-Isolation for Close Contacts
---
Travel Information
Returning from travel…
You are required to self-isolate for 14 days after returning. Please click here for information from Peterborough Public Health.
If you have travelled outside of Canada, or have been in close contact of someone who has COVID-19, Public Health Nurses at Peterborough Public Health are available to provide Phone screening and will book you for testing if recommended.
Phone Number: 705-743-1000 or 1-877-743-0101
Please DO NOT go to the hospital for testing unless you have done the Phone screening and have been directed to do so.
---
Food Handling
Fruits & Vegetables
Rinse produce before you eat or prepare
People are looking for clear guidance on fresh fruits and vegetables.
Produce is important to our diets — share with your communities that running tap water and clean hands are all you need to rinse fresh fruits and vegetables at home. Bleach, detergents and soap are not intended to be eaten by you or anyone!
This video shows how to rinse fresh fruits and vegetables.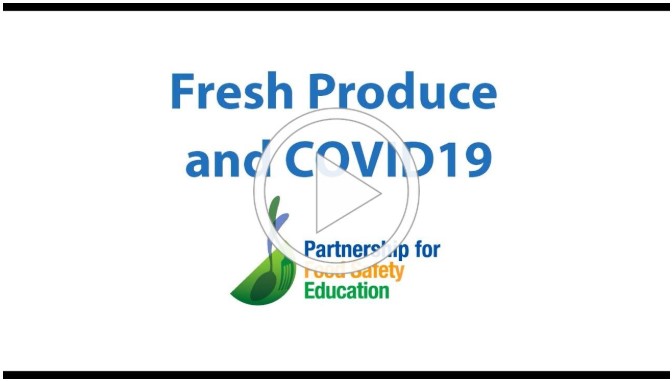 ---
Public Health Notices
---
Government Benefits & Support
This content has moved here to a dedicated page.
---
Resource Links
---